7 Demos to Start Your Website
Install any of the available demos with the "one-click demo install" option and start editing it right away.
Advanced Booking System
A unique booking system, for daily and hourly rent, with many options for managing listing price, calendar, details & more.
Custom Booking Form
The built-in booking form allows sending booking requests for a specific period by selecting check-in and check-out days, the number of guests and any other extra booking options enabled by the owner for that listing.
Instant Booking
Instant booking option is a specific checkbox available for each listing. When enabled, this option allows users to send booking requests if the selected period is open, without owner approval being required.
Booking Per Hour
Wp Rentals is the only theme with a "per hour" booking system! You can use this option for all properties or you can let each owner select whether he wishes to show prices by the the hour or by day/night. Each owner can select what hours are available to book.
Custom Prices Per Period
Select specific dates from a calendar included in each listing management area and add custom prices per night, per night for 7d+ or 30d+ bookings, and per guest.  To further differentiate your offer add a different rate for weekend nights, your choice for minimum no of days for each reservation and specific turnover days. These apply to hourly booking too.
Extra Options
Add for each listing unlimited extra booking options to show in the booking form. From the listing management area, add the name of the option, the price and whether the price should be per night, per guest, a single fee or a fee by night and guest. These will show in each listing booking form as a checklist. If hourly booking is enabled, the price per night transforms into price per hour.
Advanced Search Features
Wp Rentals comes with a dedicated search form to seek properties by their availability, maximum guest value, and other amenities.
Advanced Search Type 1
The vertical search type ensures a modern design approach for the header media. The search box is aligned to the right side of the header leaving the left space for a featured element.
Advanced Search Type 2
The horizontal search design perfectly suits every type of header, be it the Maps, Revolution Slider, Image or Video. If you choose to add a splash page, this type of search box will be an excellent design element.
Advanced Search Type 3
On advanced type 3 you can use unlimited search fields, create your search form and use this style for both object and accommodation rental.
Advanced Search Type 4
On advanced type 4, you can use unlimited search fields, customize your search form and use this style for both object and accommodation rental.
Half Map Search
Use the Half Map style to obtain an advanced search results page. With this type you will benefit from all the extra fields supported by this template: search by room type and size, bedrooms, bathrooms, guests and other amenities.
Unlimited Search Fields
You have the option to create search forms with unlimited fields and design your own search using default fields or your own custom fields.
Property Page Design
WP Rentals theme comes with two designs for the property page. Each one will immediately call attention to the property best assets and booking form.
Property Page Type 1
A bold design, with the most important elements designed to engage with the user. This type has a full header image and a sidebar with booking, advanced search and login forms. The page continues with the property details and additional photos and users will easily login to send booking requests and private messages.
Property Page Type 2
This graceful design variation comes with a classic property slider that shows on top of the page. On the left sidebar the user will easily access the booking form and the owner contact elements.  The sidebar includes advanced search widget and you can include extra elements such as the latest listings.
Custom Icons on Property page
Customize the area under the property page header/slider and choose what information and custom icons to display.
Listing Infobox
You can customize the icons and details that appear on the infobox map.
Property Page Features
The property page displays the strong points of your listing and provides all the useful details for your visitors.
Property List Page
Create a property listing page and manage its content from Theme Admin. You can add and erase properties from list, choose the sidebar and widgets positions and more.
Property List with Sidebar on the left
An elegant display of your properties, and you can configure the sidebar with available widgets.  From admin you have the option to select properties from particular categories, types, cities or areas and to list them in a specific order.
Property List with Sidebar on the right
The sidebar can be positioned on the right according to your needs. You can manage its content from Admin where you can also customize the number of properties to show per page. The properties list template has specific AJAX fields for instant filtering of available listings.
Property List full width
You can choose to showcase your properties without other elements that might draw away visitors' attention. In this template you can remove the sidebar and manage the header media. You can add Google Maps / Open Street Map, Revolution Slider, Theme Property Slider, a video, a static image or show a simple header.
Half Map Style
This template provides advanced filtering options and the user can search properties by specific features and amenities. When performing the search the map pins and property list will sync automatically. Another option is to allow users to see properties by moving the map, only in a selected map view location.
Ajax Filters for all Properties List pages
All listing page templates benefits from AJAX filtering. This system permits users to search properties and get results in real time on the same page.
Three Property Cards
Wp Rentals offers 4 design types for the property unit card. Each of them displays the most important info about the property including an average rating, if you enabled customer reviews.
30+ Header Style Options
The Rentals theme offers enhanced header design options such as color management, transparent header, Mega Menu and more.
Header Type 1 – Left Align
Header Type 1 – Right Align
Header Type 2
Header Type 2 – Left Align
Header Type 2 – Right Align
Transparent Header with Mega Menu
Transparent Header
Transparent Header – Type 2
Build The Next Airbn.com !
Media Header Options
The header media is the area below the main menu and before the content area. You can customize this section in order to display various content and functionalities. See the following for details.
Google Maps or Open Street Maps with Custom Markers, Custom Infobox & Ajax Filtering
WpRentals Theme Slider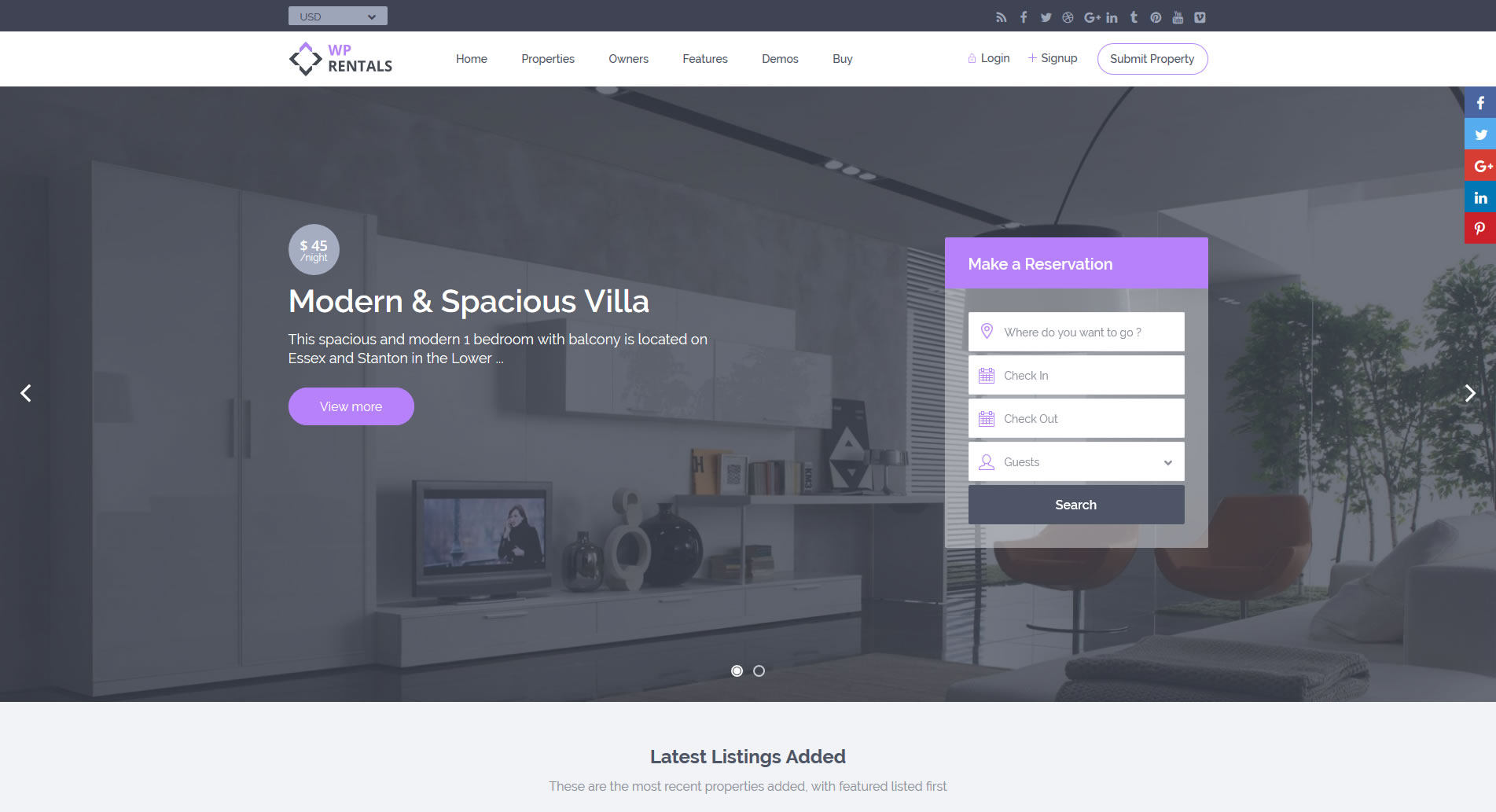 Revolution Slider in Header
Video in Header
Image Header
Works on any device
The WpRentals theme is developed by wpestate.org as a fully responsive and works great on all devices, including smaller screen resolution.


It has a clean design that ensures fast loading and easily adapting to the size and capabilities of the device. Therefore, it offers visitors an excellent mobile experience.
Three Splash Pages
Use any of the 3 splash page variations as an introduction page to your website.
Splash Page – Full Screen Video
Video background is a hot trend in web design as it makes a great first impression for website visitors. WpRentals comes with splash page options such as custom video background, custom titles, overlay management (color and opacity).
Splash Page – Image Slider
You can build your splash page using an image slider that you upload in theme admin. From dashboard you can change the slider images, the slider transition time, overlay shade and transparency, and add your own custom text.
Splash Page – Image Background
An easier but still effective option is to use a single background image for your splash page.  You can configure the overlay color, opacity, and write your text content from theme admin. From front-end user dashboard you can manage properties, bookings, reservations, and messages.
User Dashboard
Manage properties, bookings, reservations, and messages directly from front-end user dashboard.
Payments & Money
Monetize the theme and turn your website into an income generator. Set up payments via PayPal, Stripe or Wire Transfer.
Owners
The owner profile displays a list of properties, customer reviews and contact information. The later one is available only for users who confirmed reservation for that owner.
Owner Page
Owner profile page has a clean and modern design, which brings out the most important details at a first glance. The user sees owner description, property list and the feedback given by other users renting his properties.
Owner List
All owner profiles registered on your website will be listed in a dedicate page managed from admin. For this page you have setting options such as the type of header media, type of sidebar and position of sidebar.
Start Your Vacation Rental Website Today!
150+ Theme Options
You can easily manage theme options in admin, from elements design to custom property fields, google maps and more. Check below screenshots for extra info.
Custom Shortcodes & Visual Composer
The theme comes with several shortcodes that will help you build your pages without coding skills. Additionally you benefit from various Visual Composer shortcodes that are included in WpRentals package.
Recent Properties
Using this shortcode you will be able to list specific properties by cities, areas, categories and types. There are options to select the number of listings to show per page and per row.
The theme allows you to display only featured properties, and to list all properties in random or default order: featured first, by publish date next.
Featured Property
With this shortcode you can call attention to particular listings displayed on homepage or a page of your choice. It's an effortless promotion tool for best offers, most popular properties, etc.
List Items by Id
If you want to highlight particular properties in a list, this shortcode is the solution for you. It is similar to the Recent Properties shortcode, with the difference that you manage which properties to display.
Recent Properties v2
This design variation of the Recent Properties shortcode helps you create modern listing pages. Manage from admin the properties to display, by choosing particular categories, types, cities or areas.
Properties Slider
This slider showcases the properties you choose from specific cities, areas, categories and types. From backend you select the number of properties displays and the slider transition period.
Featured Owner
This shortcode enables to draw attention to a specific owner and is a great promoting tool. The Featured Owner shortcode displays owner profile photo, full name, and a url to owner profile page.
List of Places
You can showcase the best cities or areas from your offer using the Places Shortcode. This element supports featured image for each city/area that will be shown in the list of your selected places.
Featured Area
This shortcode allows to emphasize a particular city, area category or action in your published listings. With a slick design, you can use it to highlight on different columns and rows the properties of your choice.
Advanced Search
You can configure Advanced Search using a dedicated shortcode version. Place it on any page to create a useful search tool for your visitors that will enable them to quickly find properties and initiate booking requests.
Testimonials
Simply by adding a shortcode on any page you can display a testimonial section with positive feedback from your clients. This will be tremendous useful in building trust for new visitors on your website.
Login/Register
With this option, the user will be able to login/register from a dedicated page. You can create this page using two specific shortcodes available in theme admin.